This professor is saying that Chinese higher education has been infiltrated by the West thoroughly and completely.
So how can China "win"?
Bigger points:
There is an international elite that moves freely from country - jobs and posts freely provided/created as needed - China accepts this elite gladly.
To caricature it in the most simplistic way possible, humanity has fallen into two separate types of people, the selected meta and the rejected infra . I use these terminologies for better illustration as we go along. But think of them as a new breed of magicians or creators or enlightened beings. The meta (Greek for hidden) are the manipulators who switch everything and do what they want. The infra (Greek for subpar) is everyone else. The infra people lead banal lives and produce all the stuff for the advancement of meta . In the past, throughout human evolution, a tiny minority of elites had always been able to accumulate all the labor, resources, and technologies to cement their rule.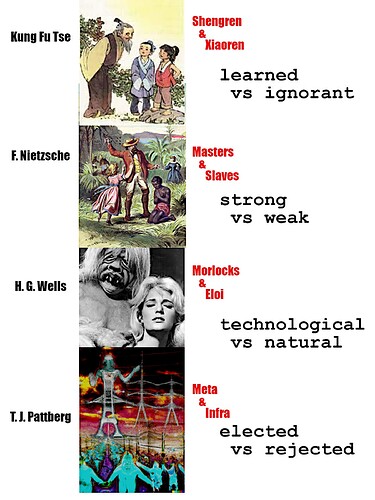 Here is another quote:
The owners and caretakers of the system do not sit their own tests. There are several other ways for them to get the positions they want. Democratic ways, even. For example, all presidents, directors, professors, researchers, and so on, are handpicked, selected, nominated by… guess by whom… their mentors and peers. Next, the entire spectrum of graduate education and research runs on nepotism, recommendation letters, and vague, flexible ideas about excellence . Excellence is deliberately kept vague, and the plantation owners change the definition at any time.

One year excellence could be enrolling more minorities, the other year it could be enrolling athletes. Money and guanxi —connections—are always excellent , see. During the last twenty years of globalism, excellence was enrolling the kids of parents who had overseas qualifications. That is also the reason why Chinese elites send their kids to Western universities where there are no entrance examinations. When they return to China, all entry barriers here have also disappeared—excellent ! Western education means global. It also means: local rules do not apply.
For that last quote…TL;DR…hard work is for suckers.
Another quote on the scam:
Next are the foreigners. If you are American, you just apply and walk into PKU. You have read this correctly. You just walk and bypass the 1.4 billion Chinese, pay maybe a symbolic $4000 study fee, and, voila, you are now a Peking University affiliate. This is what I mean by meta knowledge, or the hidden world.