Fighting Censorship and Conformity one "inappropriate" post at a time.
I am totally against almost all censorship and definitely a non conformist but in a friendly not intrusive way. Get along with just about every one. Even myself mostly. I saw this site on an audio hobby interest site. Into speaker building with new interesting designs that us poor people can afford to design and build for pennies on the dollar that can sound awesome. Sorry to ramble. Question input appreciated on SB acoustics 19stc-00-4 tweeter. Using for next Mimi monitor build like Tyler Acoustis Time Keeper. Using same woofer SB 16 pfc but crossing higher like 3000 HZ. Tweeter is cheap at $23 but has outstanding measurements for so inexpensive. Total build has to be about 150 all in. Time Keeper are 2500 . Any audiophiles out there shoot me an email. Thank for opportunity to participate. Michael marmarasmichael@gmail.com
i'm going to assume you come here from AudioScienceReview where i have already expressed that i am not a huge fan of 19mm dome tweeters due to power handling, although they offer the best sound per dollar of any type of tweeter.
unless you want to go there again i am going to let this particular issue rest for now for the sake of not beating a dead horse …
in terms of the particular 19mm driver in question there are two giveaways that it's not a very high-end driver.
1 - no rear chamber
2 - no waveguide
it says it has a cavity in the pole piece acting as a rear chamber and that it has damping material in there but apparently it's not working very well because QTS of 1.22 is frankly unacceptable ( will make crossover design harder than it needs to be )
or rather it would be unacceptable it it wasn't a $20 driver.
you know it's funny they use SILVER leads but couldn't afford to put a rear chamber on the driver. they have their priorities straight - bling before performance.
look i think for $20 you will get your money's worth with this 19mm dome just don't think it's some kind of a miracle to get a tweeter with ruler flat response for $20 …
QTS is extremely high and power handling low. basically the opposite of what you would want. but for $20 i think you could do worse.
i noticed something else as well - this 19mm dome is rated for 2.83 volt but it's a 4 ohm driver … so it's not 88.5 db per watt but 88.5 db per 2 watts … or 85.5 db / watt …
some compression drivers are 115 db / watt … 20 decibels is a factor of 100X power … you would have to push 100 db into this 19mm driver to get the output of a compression driver with just 1 watt input …
but again … these things do not matter in a small, low-output system … i'm just explaining the reasons for low cost - because maximum attainable performance is low. flat response is not of much value these days when you can flatten anything with DSP … other factors like maximum output are more important ( IMO ).
as for SB16PFC the dispersion pattern starts to narrow from 2 khz which means that to cross higher than that you would want a tweeter with some sort of waveguide to match the narrowing of the response. Genelec uses 3 khz crossover with speakers of this type but their tweeters are waveguide loaded to match the narrowing directivity of the woofer.
if you want to use these two SB drivers together i would use a crossover point closer to 2 khz. and if you think that would limit the power handling of the speaker then maybe you should be building a 3-way or using a 25mm dome …
as for comparing the cost of the DIY build to the price of the "time keepers" this is a logical fallacy. you're assuming the "time keepers" are worth their price. compare instead to popular active studio monitors from reputable companies … i think you will be able to find many models that cost no more than your DIY project once you account for the cost of amplifier, crossover and cabinets … there are so many good compact active monitors - unfortunately i already have more of them than i need

compared to a DIY 2-way, active monitors will likely have limiters that will prevent damage to drivers with excessively high input, and there will be space saving from not needing an external amplifier … these days you can also stream music to some active speakers directly over bluetooth …
not trying to talk you out of your project just pointing out that there are no miracles. if you don't make any major mistakes you will get your money's worth. but DIY isn't like growing money on a tree which is what many DIYers seem to believe.
DIY value is only really undisputable when building gigantic subwoofers, like 10 cubic foot and up. Such large speakers are expensive to ship from 3rd world and expensive to store in warehouses which is where DIY comes in big time.
but when it comes to compact speakers that can be shipped over UPS the savings with DIY are mostly illusory and come from comparing DIY to speakers that are overpriced … of course anything is great value if you compare it to something grossly overpriced but NOT ALL commercial speakers are overpriced … 99% are … but nobody is forcing you to buy from that 99% …
again, not talking you out of your project … just sharing a perspective that i think many DIYers miss …
Hi Dissident,. Michael here thanks for the insightful email about the particular drivers and recommended strategys You clearly are very knowledgeable about audio engineering and what is a fesible design. I like tinkering with different drivers and configurations. I agree it isn't really cost effective but with so many cabinets it's cheap enough. Question about some electrostatic tweeters 4 per ac powered x over Shoot me an email if you know how to mate with a midwoofer . Michael marmarasmichael@gmail.com.
when i lived in California some guy from DiyAudio invited me over to his house to listen to his Martin Logan electrostatic speakers … i brought my own music with me to listen and while i was not blown away they did sound good. It was a very long time ago but i came away with the impression that the dynamic woofer section couldn't match the transparency and speed of the electrostatic mid-tweeter section which was about 1 foot wide by 4 foot tall. I had a distinct feeling that the speaker had two characters that didn't match. when i told the guy what i thought he basically kicked me out of his home LOL.
furthermore if you look at all the reputable electrostatic designs they are quite large. the electrostatic panel is typically much larger than the bass section. i don't have a good understanding of output limits of electrostatic speakers but i would assume that if it was possible to get good performance from small electrostatic tweeters more speakers like that would be on the market as manufacturers are always looking for ways to make thing smaller. if there are no reputable speakers with a small electrostatic tweeter it probably means you can't make them small without losing performance.
in fact i was recently at Magnolia ( Best Buy ) and they had new Martin Logan speakers there and they were actually using Air Motion Transformer type "ribbon" tweeters …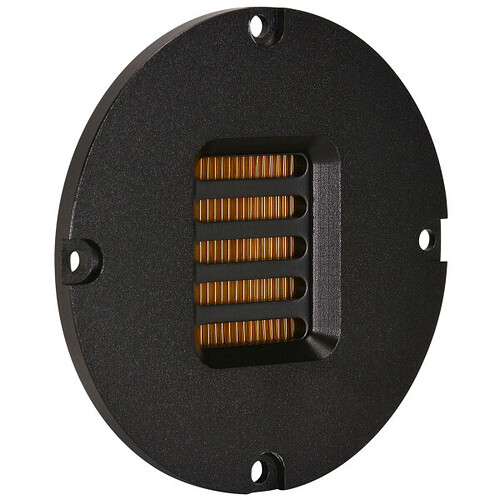 this is not a new technology but it seems to be on the rise lately for whatever reason, perhaps thanks to neodymium magnets.
AMT is sort of like a compromise between a planar magnetic and a true ribbon in both price and performance. Planar magnetics are more suitable as upper midrange drivers while true ribbons more suitable as supertweeters. AMT type "ribbons" seem to work well as a more or less drop in replacement for a regular tweeter - maybe that's why they seem to be popular now.
if you just want to build something a little more interesting than a regular 2-way speaker but still reasonably practical you could look into an AMT tweeter …
these go by several names besides "Air Motion Transformer" such as "Heil Type" or "Air Striction" or "Aero Striction" or "pleated ribbon" … regardless of the name what defines these types of drivers is the pleated diaphragm …
AMTs like true ribbons need a large rear chamber but unlike true ribbons their technology allows for open back drivers so you can provide your own chamber … for example Aurum Cantus "Air Striction" tweeters are open back …
AMTs can potentially have decent output levels with low distortion and flat response … they also can go lower and are more robust than true ribbons … if you want to build something "interesting" i think they would be worth a look …