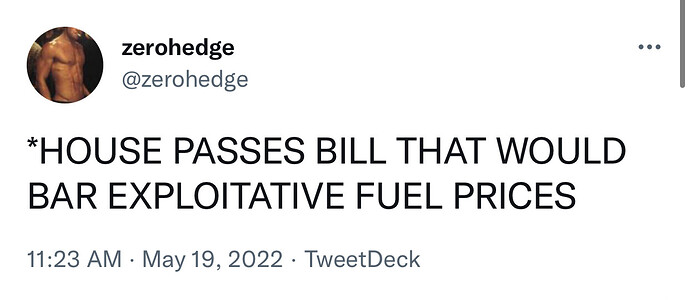 fixing fuel prices means all the gas stations will simply close down
i already lived through this exact scenario after hurricane Sandy in NYC
i hope you saw this coming when they first closed down pipelines to canada
then said they will not buy oil from Russia
then reserves started running out
and here comes the final nail in your coffin - price fixing
imagine you're a gas station owner and you're barely making ends meet selling gas at $5 and you're informed that if you charge more than $4 you will go to prison … what is going to happen ?
NOTHING GOOD
you know it's funny a few years ago i was doing a 80 mile round trip to gym and back driving a regular car first, then a hybrid, then i moved and cut my gym round trip to 50 miles, then i got a plug-in hybrid and cut it again to 15 miles which fits in my electric range except in winter … then the lockdowns came and i had to work out at home and now soon we will not be able to buy gas which will essentially be a lockdown for anybody who doesn't have an electric car.
you know now i remember when NYC ran out of gas for 2 weeks during price fixing after Hurricane Sandy they showed a guy on TV who was pretending to be a regular man on the street but i now realize was an actor telling people that if they had a Tesla they wouldn't have this problem of being out of gas …
i thought to myself then - what a strange comment to make ? this was before Model 3 and Y in other words before any semi-affordable Teslas. only people that had Teslas back then were doctors and lawyers. but what was more strange is that instead of worrying how to get gas to people and how to end price fixing that was making it impossible he ( ostensibly a random man on the street ) was lecturing us on how we should get a six-figure car if we wanted to be able to get from A to B …
well as Martin says in "The Killing of the Sacred Deer" - "we both knew this moment was coming and that moment is now" …
those shortages in NYC after Sandy were a beta test to see how dumb people are and to give the smarter ones a chance to get a Tesla. i only got half the message because my car only has about 20 miles of electric range in perfect weather like now and about 10 in January and February.
i now officially make a strong recommendation that your next car should be at least a hybrid and if you have a garage to charge a car then a plug in hybrid with enough range for your commute. keep in mind advertised range is best case scenario. if your commute is 25 miles round trip get a a PHEV with 50 mile rated range.
any gas guzzler you buy today you will never be able to sell.