I reported some suspected ANTIFA guy for basically saying he was going to beat me to death with a baseball bat and ( several weeks later ) Twitter actually locked his account: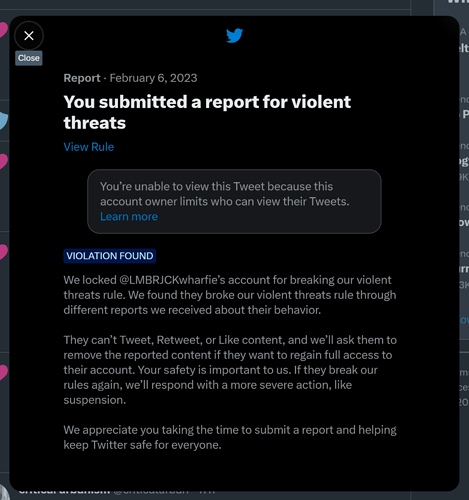 he basically said "Klaus Bugz is a Nazi and needs to be handled Inglorious Basterds style" and i reported him for this.
but they didn't lock him until they apparently received multiple reports from others.
so if i say that "women who use too much makeup look like hoes" i get my account locked but when a Progressive says they will torture and murder people for not agreeing with them politically Twitter will deliberate for weeks until they receive multiple other reports of such threats for that account …
but eventually they will lock him … doesn't say for how long … probably 12 hours LOL
still, it was honestly more than i expected. i expected the Trannies who work at Twitter to simply throw my report in the trash, since in my report i never denied being a Nazi.
also of note he Blocked me right after posting his threat, but i was still able to report it even though i was blocked by him because it was SENT before he blocked me even though i reported him AFTER he blocked me.