this is the ANALYSIS so it may contain spoilers
https://www.imdb.com/title/tt1745960/
what a horrible movie LOL
with the exception of this hot chick: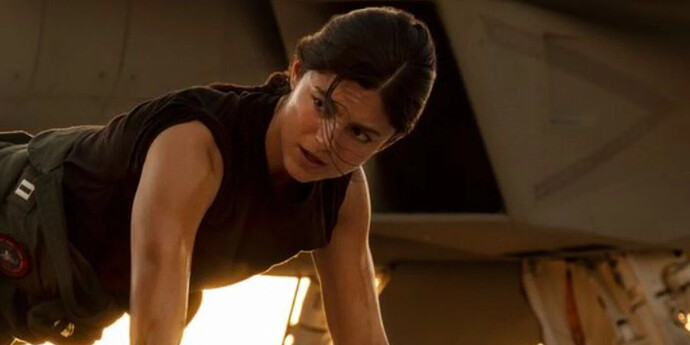 i really can't think of any reason to watch this cringe fest …
anyway i think a few things are worth mentioning …
1 - everything in the movie is spelled out and then repeated so that even the stupidest member of the audience whether they are 12 years old or 80 years old or can barely speak English will be able to understand what is happening … absolutely NOTHING is left to imagination … except nipples of course, because there is no nudity or so much as even sexuality really in the movie … the movie really goes after the lowest common denominator HARD. i'm sure that even with all the explanations the average viewer still has no idea what was going on because the average person is dumber than any of us can comprehend.
2 - it is never mentioned which country we are attacking ( Iran ) or who is the ally we are protecting ( Israel ) to keep things politically correct. furthermore we never see the faces of any of the enemies and we never hear them speak. we only see them from a distance on the airfield and in full face helmets with dark visors in their fighter jets. they make some hand gestures but we never hear a single word or see an inch of their skin. this is of course because if the movie showed the enemy as Arab or if they were heard speaking Persian or Arabic that would offend some people and get the movie negative press in some parts of the world - instead the producers were determined to cash in on every single available penny - the movie probably made money in every single nation on earth outside of Iran itself.
3 - Tom Cruise plays the man we all like to see ourselves as - the guy who is better than everybody else, always saves the day, but never really gets the credit for anything …
4 - Jennifer Connelly plays the woman that women see themselves as - past their prime, washed up, yet still imagining that somehow against all odds they may still get an amazing man even though their daughter is old enough to be dating already …
5 - Young people see themselves as the Top Gun pilots - as really gifted and destined for great things …
6 - not a single American dies in combat … i wonder if that was Pentagon's condition for offering free F18s for the movie's production …
ultimately i can forgive all that …
what i can't forgive is that there are only two pretty girls in the movie ( "Phoenix" and Jennifer Connelly's daughter ) and neither of them have so much as a romantic interest in the movie - they are just window drapes - Jennifer Connelly is the only woman getting any action and even that is all edited out …
horrible, horrible movie …