No spoilers…
Fun…sheer fun and escapism…there are PC nods but they don't stop the enjoyment.
Best seen in the theatres.


my mother laughed at how bad the movie was … then rated it 5 stars …
you and my mother approach movies from the same perspective …
this is why i didn't post a review myself - i wanted you to be able to enjoy the movie the way it was meant to be viewed first, before shitting all over it with my usual overly-analytical negativity …
i gave it 3.5 stars in the end …
out of those the movie itself is 2 stars, another star for putting the actors into actual F18s and actually FILMING it all instead of drawing it on the computer … and another half a star because the pilot chick was really cute …
to be honest the cute pilot chick was the main reason i watched the movie, sadly her role was very small …
never the less just as i expected she already has her own Barbie doll or action figure or whatever they call it …
so yeah - cringe plot, cute chick that sadly has a small role, mostly good looking practical effects …
i was thinking a lot about why the movie did so well ? it is objectively a mediocre movie but it absolutely slayed at the box office. i think it's because it appeals to both teens and boomers in a way very few movies do …
and of course with movies like this the Pentagon foots the bill so while the budget is officially just $170 million that probably doesn't account for things like F18s and actual Top Gun Pilots that were used to film the movie - my guess is Pentagon provided all that for free in exchange for the movie's glorification of US military, which is currently unable to recruit enough young people - the movie should definitely help with that.
my final verdict is this is a bad movie and worse than the first one BUT it does exactly what it was supposed to do - hits all of the mission's objectives so to speak.
i just hope there won't be another one LOL
Yes. They footed the bill. That 170 was to pay Tom and the producers.
my mother laughed at how bad the movie was
Listen…I agree with your mum…but I wouldn't give it 5 stars…I didn't even try to rate it. Its cotton candy. A popcorn film with enough practical effects and solid acting to grab everyone. A genre that Cruise and Reeves dominate (Wick and the MI franchises).
A big reason for its success is this:
putting the actors into actual F18s and actually FILMING it all instead of drawing it on the computer
That is why it did so well.
Had that been CGI, the plot holes would have sunk it.
I can't prove it and I know it is against military regulations but they probably gave Tom a spin in an actual F-18 during filming.
As for the military, I was wrong - they didn't pay Tom, instead:
The production agreement between the Department of Defense (DoD) and Paramount Pictures is an explicit quid pro quo . In exchange for all manner of technical support and access to military equipment and personnel, the Pentagon was allowed to "[a]ssign a senior staff, post-command Officer to review with public affairs the script's thematics and weave in key talking points relevant to the aviation community."
The whole article is worth reading.
The movie is doing its job if this picture is anything to talk about: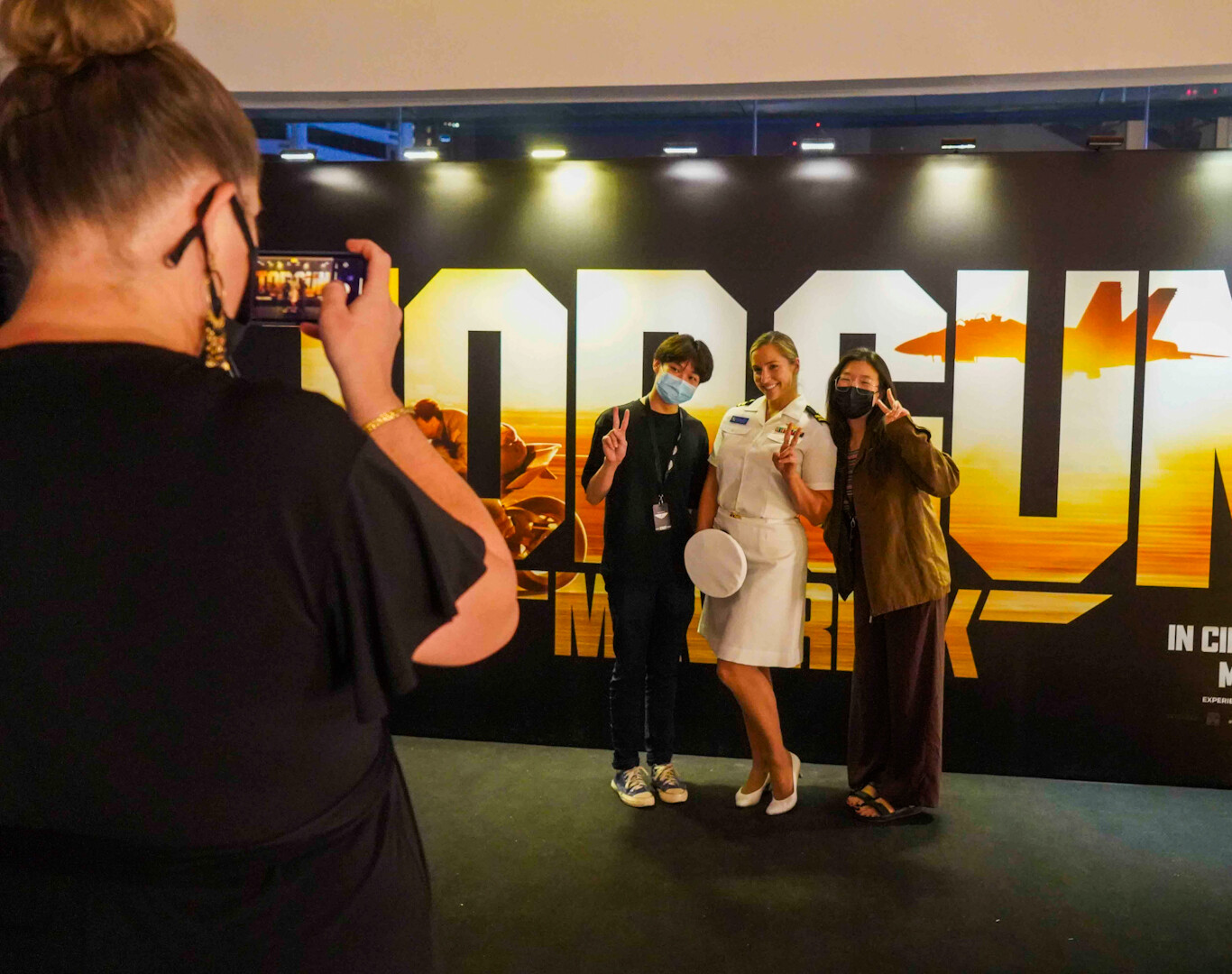 A US Navy sailor poses for photos with young moviegoers outside of a "Top Gun: Maverick" showing. Photo | DVIDS