3.5 stars
not the best movie from Lars Von Trier … just OKAY
the worst part about it is they put in the Nazis and the Holocaust in there and the undertaker is played by literally Hitler …
some of the individual scenes are not bad, kinda reminiscent of Quentin Tarantino, even featuring Uma Thurman … but the lengthy speeches by the narrator ( Jack ) and Undertaker ( Bruno Ganz ) will strike some viewers as very Cosmopolis-like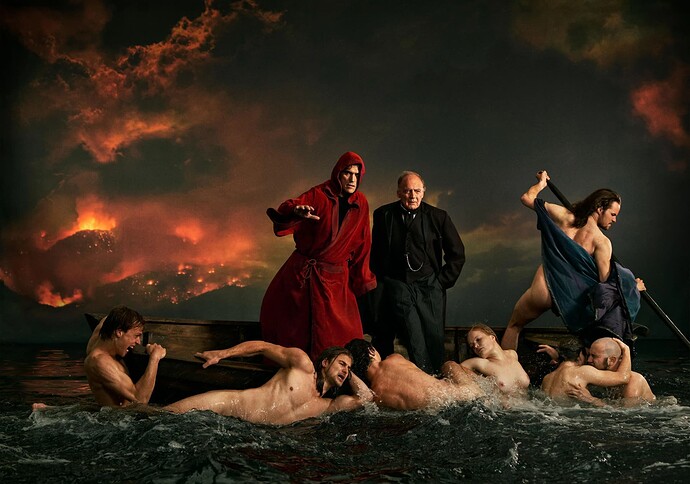 there is a downright odd moment in the film where Jack talks about violence in Art and as an example parts of ALL Lars Von Trier movies ever made are replayed as example of "art" …
well the film is definitely experimental - out of all Lars Von Trier movies it reminds me most of "Nymphomaniac" but that was about a pretty girl getting fucked by 10 guys every day and "The House that Jack Built" is about Jack killing people - not as pleasant to watch IMO …
on the upside it's only 2.5 hours versus 5 hours for Nymphomaniac …
"the house that Jack built" is also probably Lars Von Trier's take on "The Clockwork Orange" though i haven't seen that one yet …
this isn't a bad movie per se but it falls short of the expectations as all the other Lars Von Trier movies i have seen ( i think i seen them all ) were great, but this one is just OKAY …
it seems Lars just got old … this movie comes 22 years after "Breaking the Waves" which i saw in class at the University … perhaps Lars was in peak shape for Dogvile ( 2003 ) and for "the house that jack built" ( 2018 ) he is simply past his prime …
Nymphomaniac ( 2013 ) was probably the last Lars Von Trier movie worth watching.
the fact that "the house that jack built" is themed around death in fact is probably because Lars is already thinking about his own death full time.
yes this movie is about killing but it's also about death, which isn't the same.
what is unique about this film is that the protagonist is the bad guy ( again, think Clockwork Orange ) … but also he is narrating after his own death through a conversation with the undertaker …
if that appeals to you watch it - otherwise don't
the film is different / original and without a doubt tackles important and deep questions but the execution isn't on the level of Kubrick or even Tarkovsky or for that matter Lars Von Trier's own older movies IMO …
i think up and coming art house film makers will be inspired by some scenes and images of this movie but the movie on the whole IMO will never be considered an important classic …
i will neither recommend watching nor avoiding this film - it's up to you