3.5 stars. it's OKAY
this movie comes from the director of "The Best Offer" but 13 years earlier …
you can definitely tell it's the same director in how unnecessarily long the build up to the climax is and also from the fact that the movie doesn't end at the climax but rather goes for another 15 minutes or so …
there are other signs it's from the same director as well … not the least of which is the very substantial age gap, except in "Malena" it's the reverse of what it is in "the best offer" …
i don't really like this director, but i do like Monica Bellucci and even though she is a little bit past her prime in this film it's not by much and it's appropriate here because the protagonist / narrator is a 12 year old boy coming of age who has a crush on Malena so the idea is he's just becoming a man and Malena is just passing her prime …
on some level there is maybe resemblance to "Dogville" in that it's about a beautiful woman that is unfairly treated by a bunch of backwards degenerates except instead of running away from Mafia it's WW2 in Italy …
and yes of course Nazis are the bad guys, even though it's actually set in Fascist Italy which towards the end is invaded by Americans but they are greeted as "liberators" ( yeah, right )
but it's not all bad … in one scene father locks the boy in his room for bad behavior and mother complains he hasn't eaten in 3 days to which the father replies " in Soviet Union they don't eat at all " he he he
so there is element of "The Best Offer" there and an element of "Dogville" but this is also a romantic comedy, which may also be considered an erotic movie similar to "Cheeky" ( 2000 )
heh i didn't even realize both movies came out the same year and both are in Italian …
anyway "Cheeky" is Erotic - just a beautiful girl showing her tits and getting molested by literally everybody, without much attempt at a plot. "Malena" is much more ambitious in terms of being a real movie but there is no denying that at it's core it's still about Monica Bellucci showing her various body parts and getting molested for the camera …
but whereas in "Cheeky" the erotic scenes are clustered tightly enough so you can keep masturbating the entire movie in "Malena" they are a bit shorter and further apart so i don't think it's meant for jerking off - i think it's really meant to just keep the viewer involved.
as in "The Best Offer" Claire constantly teases Virgil with her hot and cold act so in "Malena" the director teases the viewer with Monica Bellucci constantly showing her tits and periodically other bodyparts …
AZNUDE has no less than ELEVEN separate nude or sex scenes from "Malena" … but i will only post still images here to avoid spoiling the plot …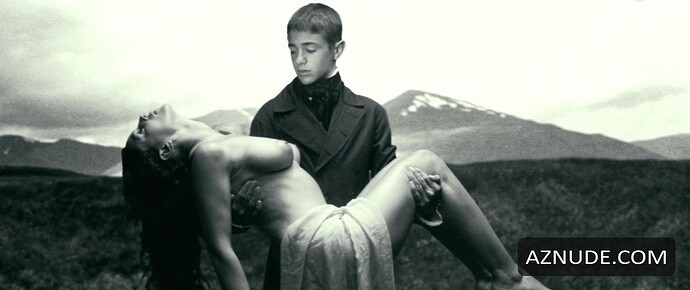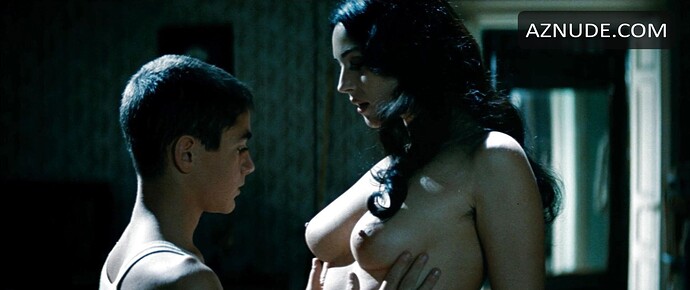 the shots above are from the boy's FANTASIES so i am not actually spoiling the plot …
these fantasies the boy keeps having are used by the director to fill what would otherwise be rather barren plot with some eye candy … and in this sense i guess this is a little bit reminiscent of Lolita in that these scenes aren't entirely appropriate considering the boy is 12 years old …
but ultimately the movie is about Malena and not the boy even though he is the narrator … sort of how in "Dogville" the movie is somewhat from the perspective of Tom but is really about Grace.
so "Malena" is basically 3 things:
i would rather have 3 separate movies - i would skip the comedy, jerk off to the Erotica and recommend the Drama - but because it's all in one movie that complicates things …
it's quite eclectic - the movie tries to be a serious Drama then sabotages itself by interjecting with comedy or gratuitous erotica …
so who is this movie for ? it is probably most directly aimed at teenage boys with a crush on Monica Bellucci. a secondary audience would be older women fantasizing about 12 year old boys.
if you fall into the first category it's a 5 star movie hands down. if you're in the 2nd category it's at least a 4 star movie. if you're neither but think Monica Bellucci is an exceptionally beautiful woman then it's a 3.5 star movie. and if you think Monica Bellucci is good looking but nothing special then you shouldn't waste time watching this film.
Monica Bellucci's beauty is a solid half of the film - if you can't appreciate it then it drops to something like 2.5 stars and to me anything below 3 stars isn't worth watching. Yes the film has other things going for it beyond Monica Bellucci's tits, ass and bush but those other things are simply not enough on their own even if you're @marlon who liked the other movies i compared it to here ( namely "The Best Offer", "Dogville" and "Lolita" ) … because simply put this movie was never meant to stand on its own 2 legs - it was always meant to be a sort of masturbation fodder for boys with Monica Bellucci posters in their bedroom, but because Monica Bellucci is a real actress ( as opposed to porn star ) it had to be dressed up as a real movie with some serious issues, drama and so on …
basically "Malena" is an IMITATION of a serious, even artsy movie used as an excuse to worship Monica Bellucci
i give it 3.5 stars but you decide whether to watch it or not.