Fiets is Amsterdamish ( Dutch ) for feet / bicycle
Professor is Newspeak for enjoyer of Klaus Schwab dick.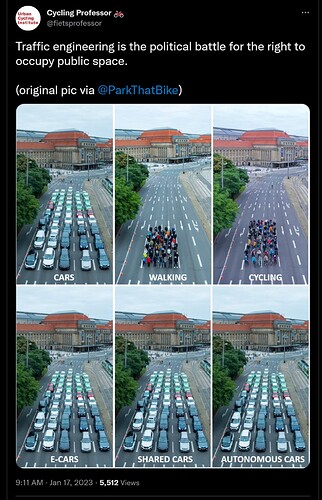 it may be too hard for fietsprofessor to understand this but we don't use cars to stay in one place - we use them to go from A to B. so when we talk about road capacity what we really want to know is how many people the road can move from A to B not how many people can permanently camp out in the middle of the road ( this is hard for shit-libs to understand since they only use roads to stage their protests there ).
anyway do you know what happens when cyclists get packed this close together ?
this is what happens: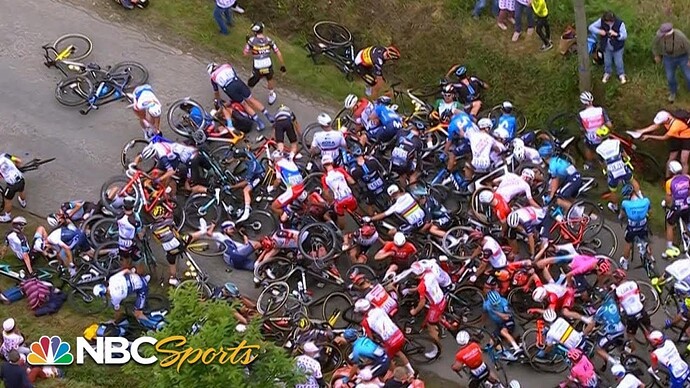 i say this as a cyclist myself.
bicycles can only remain balanced when they are IN MOTION and they need to be able to move side to side in order to balance. which means that in practical terms a cycle needs almost as much space as a car, unless cyclists are in a group in which case they all move at the same speed and in same direction and take up less space … but a group of people driving would occupy a single vehicle altogether.
furthermore when you consider that cars travel at average speed of 40 - 60 mph while bicycles travel at an average speed of 10 - 15 mph you can see that for any given road capacity even assuming there is only one person in each car ( obviously on average there is more ) even with half as many cars as bicycles on the road the road capacity ( throughput ) for cars will still be DOUBLE that of bicycles because a car only needs to spend 1/4 the amount of time on the road to get from A to B compared to a bike ( because it is moving at 4X the speed ).
and when you consider a person walks at 3-4 mph versus a car at 30-40 mph you will see you only need 1 car ( even if there is only one person inside ) on the road to match road capacity of a pedestrian scenario with 10 people walking on that same road.
in other words there is NO BENEFIT to switching from cars to bicycles or walking.
the graphic is A LIE designed to dupe LOW IQ RETARDS.
which is generally true for most content put out by city planners and cycling activists
they target primarily children and homosexuals because these are the demographics that have no experience with cars. children for obvious reasons and homosexuals for reasons that will be explained later.
no suburban adult that owns a car is going to voluntarily give it up so city planners and cycling activists do not bother trying to make their propaganda convincing for people who actually know anything about cars. instead they target women, children and the mentally ill.
the plan is if they can get enough idiots who have never owned cars to believe that cars are evil then these idiots can vote to ban cars for everybody else.
this is the beauty of democracy - everything in a democracy is decided by the dumbest of idiots who are being brainwashed by the most cynical of sociopaths.