i know Glitch Mob … i like the "Fortune Days" track from this album …
it's close enough - no need to move
i sense negativity …
I believe the TV took out some of your blood vessels.


I don't know if you've yet recovered.
are you referring to my long rambling posts as of late ? or something else ?
i was wondering if it's worth the effort to keep them short, sweet and to the point or just go with the low-effort stream of consciousness style …
way back, more than a decade ago, on YouTube we used to do something we called "walk and talk" videos where you would basically go to the park, find a quiet trail and record yourself talking UNEDITED. so you might walk and talk for 20 minutes or so and whatever came to your mind in that time is what you recorded. we watched these videos because they were more authentic than something edited in software chopped from 50 different takes with 90% of footage cut from the final video. with a walk and talk video you had an idea of what you wanted to talk about but you weren't really in control of what you would actually end up saying - that was the point - it was more REAL that way.
but i recognize that text is different. just because it's rambling doesn't mean it wasn't edited. actually i can see your edits, but you can't see mine, but that's besides the point. the point is that having a post ramble doesn't make it more authentic - just makes it easier to write ( and harder to read ).
so no i didn't have a stroke, not that i know of anyway, but i certainly did let myself go so to speak …
or were you referring to something else ?
anyway i'm late for gym.
TTYL
You're overthinking

…when you said you sensed negativity from me, I wasn't sure if you were serious or not.
I assumed you were serious, (since I saw no smiley face etc.)
So…assuming you were serious – and since I didn't see anything in my post that was negative – I wondered if the TV thing was still bothering you.
I have no problem with the posting style…enjoy the weights.
i'm always serious - i'm Russian.
Americans think making jokes is one of their many duties along with eating junk food, watching sportsball, running up credit card debt, voting etc …
the truth is nothing could ever be more ridiculous than life itself …
Nietzsche said that man laughs because only man ( of all animals ) suffers so much that he needs laughter … well American style humor seems different … they have to sort of fake being human by joking about anything and everything for no reason because they have blocked out the pain of existence as well as reality in general and thus real irony and absurdity are inaccessible to them … unlike Russians who don't even have a word for "cope" because Russians don't cope - they embrace the fact that life is hell.
i heard Americans read books which teach them how to be funny … that to me is like attending a university to learn how to masturbate or something … we masturbate because it feels good … we laugh because things are ridiculous … what is there to learn ?
i already got in a fight once with a friend over what exactly humor is … he said my idea of humor was low brow so i blocked him …
anyway, i was never a fan of American style humor. i never understood what is supposed to be funny about smashing a cake into someone's face. all i see is wasted cake and even cake itself is a waste of agricultural capacity since it's not food but poison.
i guess it isn't really American style humor but Jew humor …
Jew "humor" is about hurting and ruining things for no reason - after all, it's all Jews do.
from my perspective on humor i can only interpret your joke as a personal attack that basically says " you Dissident can't tell me what to do ! you are a brain dead retard, i hope you get a stroke and die and get buried in the box from your TV "
the alternative explanation of course is that you are an American and just trying to fulfill your duty as a good citizen by being funny …
most likely some combination of the two … because you yourself are some kind of combination of me and a good American … you see my perspective on some things but then you adopt a normie perspective on family for example … and on "action" in movies …
ironically it's your normie side that hates me … yesterday on GAB i was called "vile" because i suggested that dismembering trannies would make us no better than our enemies … that's normie-ism … all normies want to do is torture everybody to death while telling everybody what good people they are …
as for my workout … a bunch of normies were trying to kill me in the gym by trying to arrange an Olympic weightlifting accident for me … but my father is a Sadist so i'm used to this sort of thing …
they will be doing it again next time of course … they hate me because they can't olympic lift and because i won't talk to them …
i was thinking today - there are two kinds of people - people who are Evil, and people who deny the existence of Evil - they always work together as teams to identify any good ( such as myself ) that may through some freak accident ( epigenetic defect ? ) manifest in this world and attack it immediately …
people hate two things - truth and good. they tell everybody to be good and tell the truth but when somebody actually does it they immediately want to kill that person because he makes them uncomfortable.
No. No! Good God man! Where did you get that from??
the alternative explanation of course is that you are an American and just trying to fulfill your duty as a good citizen by being funny …
How about neither of the above…
I just didn't get what you were saying since I wasn't pushing anything - negative or positive…
You said you sensed negativity, and no, that wasn't the case.
I know you like everything in its right place so I didn't want to burden unnecessarily since the TV got you upset.
That's it…no hidden meaning nor any attempt at comedy.
Nietzsche said that man laughs because only man ( of all animals ) suffers so much that he needs laughter
True. But then, isn't that when one laughs to cover the pain of existence? Or some new crappy occurrence?
Laughing at others though, always has a little jab in it…a little bite of sadism…some looking down at someone's misfortune.
now we're on the same page.
see ? i knew you were a smart guy

very very bad.
what did i say about art and innovation ?
they had 25 years to remix a classic track and the remix pretty much adds nothing to the original.
if this is not failure then what is ?
the original track came out the year i came to US. i'm gonna be fucking dead from old age soon and their remix sounds less fresh than the original.
FAIL.
personally i think if you're going to remix or remake something your version should be twice as good as the original, otherwise you're just plagiarizing.
i do post remixes often but only when the original is so obscure that likely nobody has heard it …
anyway since we're on a subject of bad remixes of a classic here is one for you:
i hate noisuf-X and X-fusion and this track too … but at least i can see why Toccata could use remixing …
he just added a bunch of noise on top of the music … my idea of noise music is when noise is the music not something added to music to make it more "edgy" …
and here is what i consider a good remix:
i like this remix because it is different enough from the original to have a reason to exist … plus the atmospheric sound is appropriate considering Kurt is dead … whereas when he performed the original he was obviously alive.
in fact listening to both tracks back to back it's hard to say which one is a remix of which unless you know the answer … it almost feels like the "Frauhofer Diffraction" version should have been the original and the "Nirvana" version was some kind of garage punk band cover of it …
i think that is a testament to the talent of both acts …
and here is the original: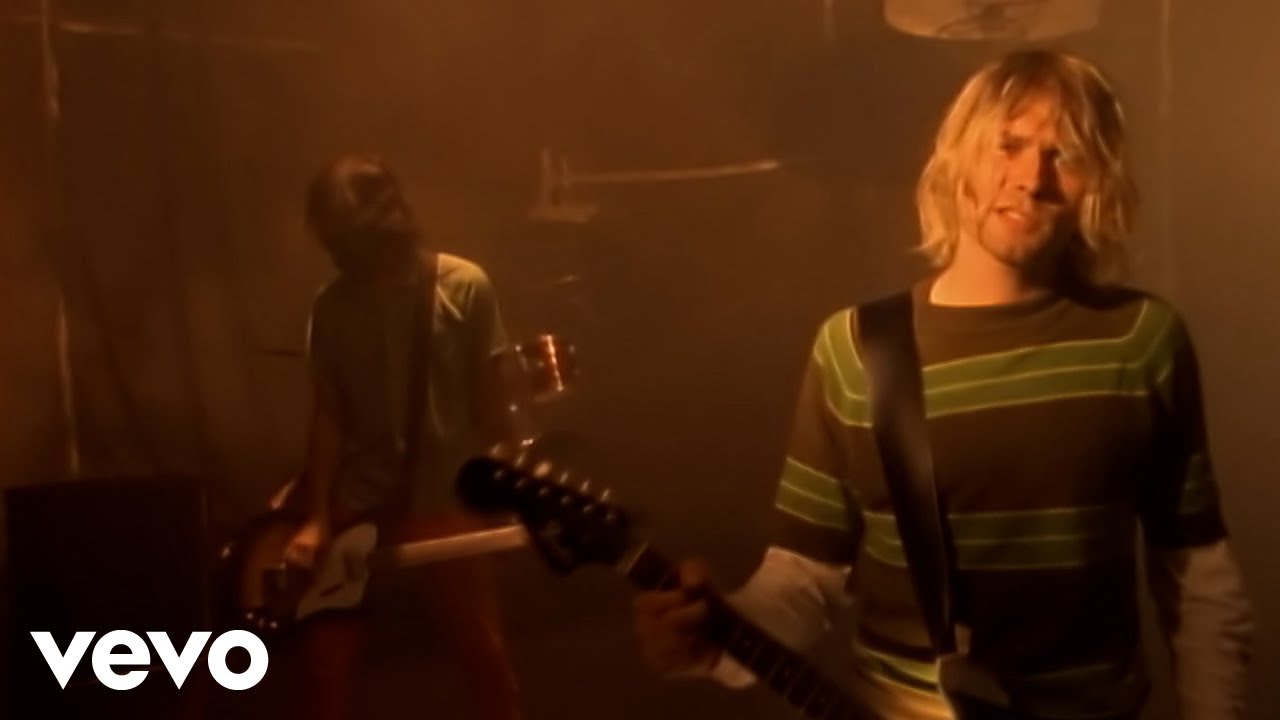 keep them coming. "Uebok" is a staple of my workout / driving playlist now. but if i don't like a track i'm going to be honest about it.
That's cool; the truth is I didn't even look up the original.
NOOB
the first time my 1st gf invited me to her dorm some other chick was blasting this track in her room with door open so it was playing in the entire hallway …
made me wish i also lived in a dorm …
but then, when they had essentially no heat in winter and kicked us outside for fire drills as i told you i was like - maybe living at home isn't so bad …
LOL
Tron Legacy is an audio-visual feast, but otherwise pretty weak.
sort of the opposite of Dogville.
ideally i would like a movie to excel on all fronts but in the real world we probably can only really ask for a movie to get one thing right.
i wouldn't listen to this music stand-alone but it worked really well as the soundtrack in the movie.
so much so i went to watch the movie in the car to see what it would sound like on the car's sound system. it sounded great but of course i'm not going to be watching movies on a 6 inch screen LOL.
the melody / composition is good
but the sound isn't innovative or original enough for my taste
there are a number of things i look for in a track and this one gets some of them right