this thing is amazing
yes i own it
manufacturer page:
amazon page where i bought mine:
teardown video: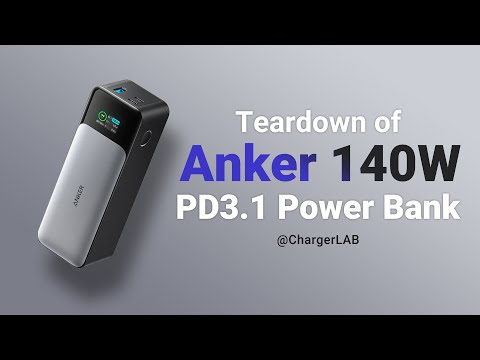 sciencey review:
at $150 it's frankly a steal
every other comparable unit is lower quality and more expensive
PROS:
charge a macbook at full 140 watts using 28V PD 3.1 @ 5A, highest power available in a USB device to date ( haven't tested this, i don't use Apple anymore )
charge Samsung phones at full 45W using PPS ( haven't tested this, i have an older phone ), additionally it supports PPS up to 21V and 5A whereas many devices only go to 11V and 3A on PPS.
close to maximum battery capacity allowable on a plane ( due to fire hazard )
two Type C and one legacy type A ports offer a good connectivity mix, with both Type C ports offering full 140 watts output and the input port offering 140W input
color OLED screen is surprisingly informative, it is not a gimmick and really adds to the user experience
build quality, fit and finish are insane, it feels almost as well made as an Apple or Samsung phone.
gets barely warm even under extreme power conditions
priced to sell
CONS:
very heavy, you could probably knock somebody out with this thing
port labels are absolutely unreadable, no seriously - they are IMPOSSIBLE to see, you just have to REMEMBER which port is input, which is frankly a major oversight …
i want to expand on two points from above bullet point lists:
the port labels font is tiny but the real issue is that it's literally THE SAME COLOR as the background. no seriously. it's black font on black background. only difference is font is glossy and background is matte. if you have a bright source of light and hold it at just right angle and you have eye sight of a teenager you will be able to read which port is the input. ports C1 ( in / out ) and C2 ( out only ) look IDENTICAL except for unreadable labeling. Anker decided to score some styling points by using tiny black font on already black chassis but the price of that is you have to remember which port is input.
the display is incredibly useful. i tested all my chargers ( that i could find ) with it ( to see how fast they will charge the battery bank ) and got readings of 4W, 4W, 7W, 7W, 10W, 22W, 90W and 130W watts. the 4 and 7 watt chargers were old Samsung chargers from probably a decade ago. the 10 watt was from a large and high power but older Anker charger. 22W was from a recent high power Samsung charger that came with my Samsung Wireless Fast Charger - it had extra juice to handle the wireless charger transmission losses. the 130W was on Aftertop PD 3.1 charger that i originally got specifically to power this 140W Anker Battery Power Bank but i have since returned it to Amazon because it ran too hot … just got my refund a few hours ago. Finally the 90W was on Anker 747 GanPrime which i replaced the Aftertop with and which i will review separately.
i don't work for Anker and have never received any discounts from them nor do i make anything if you click on the links.
yes i 100% recommend Anker 737 Battery Power Bank. it would make a great present to somebody who always has their USB devices running out of juice provided they can handle the WEIGHT of this unit which is massive.
the weight is really the only reason to stay away from this device. it is literally the heaviest power bank you can legally take on a plane. this is the price you pay for the power and build quality.
Final Verdict - get it, but only if you are absolutely sure 630 grams isn't too heavy for you. For reference iPhone Pro Max is 240 grams.