This is the mouse:
( I ordered the Mouse + Wireless Puck combo, which actually arrived in separate shipments )
I also ordered this charger to use with it:
Here is what they look like together: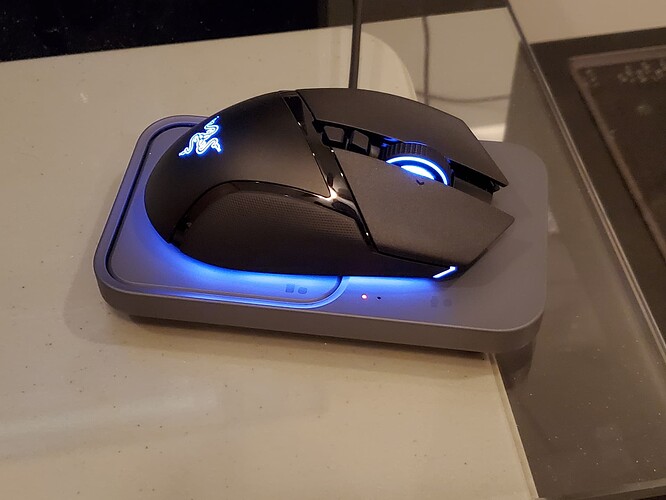 Overall impression after 2 days of use is this is a high-end device that is feature packed and has amazing level of attention to detail.
I have only found one downside - the weight - this mouse is heavy. This may be a deal breaker for competitive gamers. But it isn't to me since i don't play games.
So why did i get a gaming mouse if i don't play games ? Well the Basilisk is an all-rounder mouse, it isn't super gaming focused. My previous mouse ( Logitech G903 ) was the same - an all rounder mouse marketed as gaming but still packing productivity features, just like the Basilisk. Also just as the Basilisk it was a high-end mouse with wireless charging.
What changed since is that i have vowed not to use Logitech again. I also decided to move away from the mousepad being the source of wireless charging energy and instead to use a phone charger for the mouse. After two days of use i am happy with these decisions so far.
I won't go through all the features of this mouse as there simply too many and there are many reviews you can watch that go through them. All i want to say is that it FEELS like Razer worked really hard to make this mouse as good as it could be.
From the textured rubberized finish that is grippy and fingerprint resistant … to the cable that is the most supple i have ever felt and feels like it's not even there IF you choose to use the mouse win wired mode … to the software that offers to install automatically when you plug in the mouse without you having to search for it online or read the manual or do anything at all … to the clean, intuitive and responsive design of the software itself that is just a pleasure to use ( you use it to customize lighting, DPI settings, button mappings etc. )
the feet of the mouth aren't as smooth gliding as on Logitech G903 and the shape isn't quite as ergonomic and if it wasn't for my belief that Logitech designs products to fail out of warranty for reasons of planned obsolescence i would have gone with some Logitech like MX Master 3S …
but i had a Logitech Keyboard, Mouse, Charging mat and Mousepad and ALL OF THEM failed with the keyboard failing in two separate modes ( first the LEDs burned out then the keys started to register letters twice ). faced with such impressive consistency in failure i could only conclude that this was planned obsolescence at work. these products were all about 3 - 4 years old and they started failing after about a year of use.
Logitech will always have the best design with the most sleek and ergonomic products but i simply refuse to support a company where as soon as warranty is out they begin to fail and after 3 - 4 years 100% of the products have failed.
Logitech MX Master 3S ( AKA best mouse ever ) was only $99 instead i went for Razer Basilisk V3 Pro which is over $200 when fully specced with the dock … but to me this is a price worth paying for not going with Logitech.
the dock was out of stock so i adapted Samsung charger instead, which was on sale. i went for the Duo model because it uses two coils offset to the sides which matches the offset location of charging coil on the mouse. only the main coil works with the mouse, the smaller coil on the Samsung seems to not be Qi compatible but rather only for Samsung accessories like watch and earbuds. regardless the main coil works perfectly for both my phone and mouse so it's all good. i have the phone on it when i'm awake and the mouse on it when i'm asleep. it's great.
overall super happy. the mouse is very heavy and very expensive but it's as good as i could have hoped for from a non-Logitech mouse. yes you can probably get better feeling mouse for less from Logitech but i decided to take a principled stand against Logitech.
and in fact this Razer is in many ways an upgrade from Logitech, such as the aforementioned textured rubberized finish or the electromechanical clutch on the dual mode scroll wheel that is software controlled and can be set to automatic mode which is in fact the mode i'm using and it works great.
the lighting is also very slick and brightness can be adjusted.
Qi charging is slow but fast enough for overnight use while Wired charging is legitimately quick.
You can also use the mouse wired and the cable is very soft and has some kind of damping that just feels perfect.
the buttons have a nice weight to them, a bit on the loud side but not bad sounding.
Overall very happy with this mouse. Is it worth $200 ? Maybe not but it certainly feels premium. It feels about as premium as the Logitech G903 it replaced which was also around $200 when you include the cost of the PowerPlay mat that i was using to keep it charged ( pictured below ).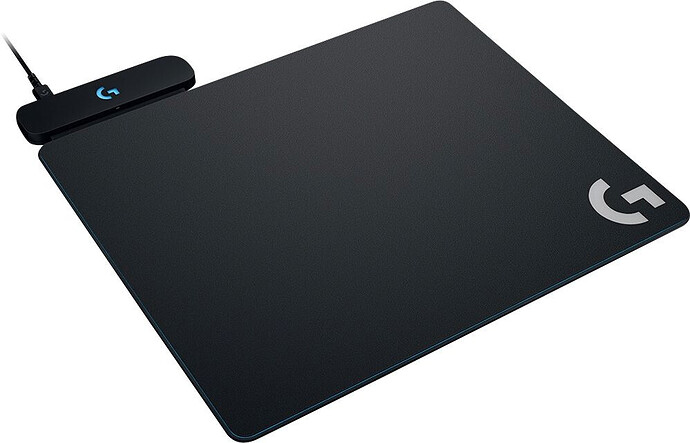 as for the PowerPlay mat ( pictured above ) it had cons and pros. the pro was obviously you never needed to worry about putting mouse on the charger as it was always on the charger that was the mouse mat itself. the cons were many though. the mouse pad failed by delaminating. the charging stopped working. and the plastic part where the cable attaches was always in the way with the mouse hitting it. i much prefer the solution i have with the Razer where the mousepad, charger and wireless dongle are all independent of each other than the PowerPlay solution where they were all integrated together such that a single point of failure takes everything down. Another annoyance with the Logitech PowerPlay mat was that it was wired so moving it was a hassle. I often like to reposition the mousepad and it's easier to do with a regular mousepad than with the heavy, clunky and wired PowerPlay mat.
now instead of one USB cable going to PowerPlay i have two - a USB cable going to the Razer dongle and another going to the Samsung Qi charger. but more importantly no cable is going to the mousepad which is the one i constantly reposition as it keeps shifting with use. I don't need to reposition the dongle or Qi charger every half an hour so i don't care if they're wired.
anyway, loving the Basilisk V3 Pro with the Samsung Duo charger.
i only had it for 2 days so far so it's a bit early to recommend but i keep liking it more and more as i keep using it