this keyboard:
https://www.amazon.com/dp/B087LYPKWD?psc=1&ref=ppx_yo2ov_dt_b_product_details
is amazing.
typing on it right now.
it isn't just nice or i like it or stuff like that - it is legit in a different league from other keyboards.
its sort of how you know there are consumer grade products, commercial grade, medical grade, military grade and so on …
well this keyboard feels like something a person who invented blockchain would be typing on … it feels like mere mortals shouldn't have access to this level of gear …
aside from that, the keyboard is quite basic. no wireless or backlighting. it does have a detachable braided USB-C cable as well as includes a key cap puller, some Apple specific key caps you can install and a set of secondary springs that can be installed to increase the weight of the very light 35 gram keys.
it also includes a thin clear plastic dust cover, which is a nice touch.
the packaging is simple brown cardboard and instructions are in Chinese only, but you don't need them.
overall this is a no-BS keyboard. it doesn't skimp on anything of substance while completely skipping over any BS like RGB or even an English language manual that you don't need.
i realize that to the untrained eye this looks like a $20 keyboard and when you add the fact that it doesn't even include instructions in English that would drop it to $10 in most people's yes … so is the $180 price really justified ?
YES
this keyboard is cheap on the surface but when you look closer it is world class.
i compared it to an actual $10 keyboard that my Grandma uses …
it's kind of like Mercedes G-Wagen versus Jeep Wrangler - they look the same to the untrained eye, but they are not the same AT ALL.
that said G-Wagen isn't for everybody, certainly it isn't for me …
and this Keyboard also may not be for everybody …
but i love it.
Epomaker is actually just a distributor for Niz.
This wasn't my first choice of Niz keyboard but the 1st choice was only available through Epomaker directly and i waned to buy on Amazon ( sold by Epomaker, shipped from Amazon ) …
for a keyboard that is SO different you want to have the option of hassle free returns, which Amazon offers … whereas buying from Epomaker directly return process looked a bit sketchy to me …
Only been using this keyboard for a few hours but so far yes i recommend it IF you can get it from Amazon with free returns like me …
If you have to go through Epomaker perhaps it would be too much of a risk in case you may not like the feeling and might not be able to return it …
With Amazon i actually got SAME DAY DELIVERY for it here in New Jersey and of course i have PLENTY of time to return it, though i have no intention of doing so …
i think the sticking point for most people with this keyboard will be the white color and to a lesser extent lack of backlighting …
but actually for a keyboard that isn't backlit white color is optimal as it makes the legends more legible …
which goes back to the theme of this keyboard - it is all about function. if you want bling - this keyboard is not for you. if you want amazing typing experience - order one from Amazon and try it out - you may be blown away, or you may hate it - but it is like nothing else. LITERALLY.
Literally no other keyboard has switches that work, sound or feel the way Niz switches do. not even Topre switches which Niz cloned …
But i am not the only one who thinks that Niz clones of Topre are actually superior to the authentic Topre, due to being damped on the upstroke …
The people who think Topre is better than Niz are probably basing their judgement simply on the fact that Topre is the original Japanese made electrocapacitive switch while Niz is the Chinese clone, and i 100% understand that logically one would assume that the original Japanese would be better than Chinese clone …
But that simply doesn't seem to be the case …
I haven't tried Topre but i have watched a direct comparison video and what i am experiencing with the Niz is 100% consistent with what i saw in that video, which concluded that Niz was superior.
here is the video: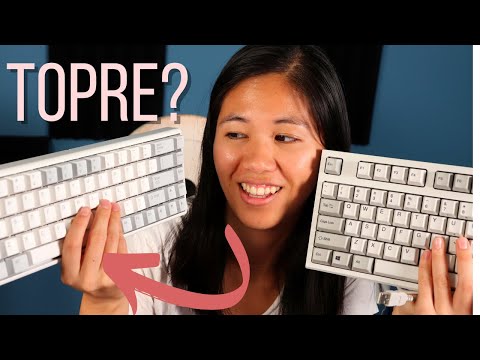 please note the video uses a more compact Niz keyboard than one i have, but the switches are the same.
the YouTuber who made the video got their KB directly from Epomaker, so they were able to choose from a wider range of models than the limited Amazon selection.